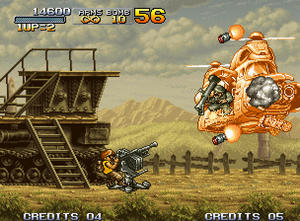 The AA Machine Gun is the main anti-aircraft weapon from the Regular Army introduced in Metal Slug: Super Vehicle-001.
Information
It is a stationary .50 mm machine gun that fires an infinite amount of light bullets. Its high rate of fire makes it a formidable machine gun to deal with Paratroopers, Rebel Infantry, and enemy aircraft. The AA Machine Gun does not provide any protection from the player, but it provides invincibility frames when the player ejects from it.
In Metal Slug 4, the Sea Satan has an AA Gatling Gun with a homing missile launcher used by the Rebels. This AA Gun is invulnerable to the player's attacks.
In Metal Slug Attack, the gun was introduced to celebrate the game's twenty million downloads
Trivia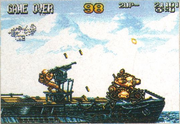 In the "Tank Only" version of Metal Slug, rescued Regular Infantry would've jumped on the AA Machine Gun and fire on enemies. The soldier's sprites are reused for the Rebels using the Sea Satan's AA Gun[1].
References