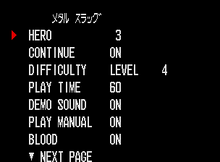 The Arcade Settings are the settings found in the Test Menu in the MVS versions of Metal Slug: Super Vehicle-001 to Metal Slug 5. The machine operator can change the options to affect how players control the game.
Rundown
These options are accessed by selecting "Setting Up the Soft Dip" and the slot where the game is located. The operator presses A to increase an option, B to decrease an option, and C to return to a previous menu.
Hero: Sets the number of lives when starting a game/continuing.
Continue: Gives the player the option to continue their game after losing their lives. If not, then the game immediately ends. When in two player mode, both players have to get a Game Over in order for their game to end, so a losing player can continue (with their score reset) if another is alive.
Difficulty: Sets the difficulty number (1 is the easiest and 8 is the hardest).
Play Time: Adjusts the game's time limit.
Demo Sound: Turns the sound during the demo on or off.
Play Manual: Shows or skips the "How to Play" screen when starting a game.
Credit/Level: Displays or hides the number of credits and/or the difficulty on screen. The game counts the number of credits even if the display is off.
Blood: Sets the game's blood from red/on or white/off. It's on by default for Japanese versions and off for International versions.