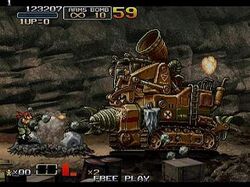 The Bull Drill is an advanced construction site machine/digger, used by the Rebel Army. It is the first boss of Metal Slug 6.
Details
The Bull Drill is a large mining vehicle developed by the Rebels and is designed to dig underground with ease. It has both a bulldozer blade and drill, hence its name. This excavator was apparently used to dig through the Invaders' underground base. [1]
Gameplay
The Bull Drill attacks by sending a ground-based missile forwards from underneath its bulldozer plate at the front. A Rebel soldier then pops out from said shovel and attacks with the cannon. It sometimes moves forward to ram the player or launch a boulder from the funnel.
Once half its health is gone, the plate will blow up alongside the residing Rebel, at which point the Bull Drill begins using its drill. It can extend the drill similar to the Drill Slug and try to hit the player, or lift it up to the ceiling and drill it, causing boulders to fall from the ceiling. In easy mode, however, it doesn't use its drill.
In Other Games
The Bull Drill appears as a purchasable unit in the 1.27.0 update where its official name was revealed. Here, the Rebel on its giant shovel has been removed. The Bull Drill's special attack is to drill the top edge of the screen and cause a boulder to fall. This attack can destroy all kinds of aircraft below its drill (except the Sol Dae Rokker and Hairbuster Riberts which have very high HP), making the Bull Drill one of the best choices to use as an anti-air unit.
The Bull Drill returns as a Super Rare unit. Its special has been upgraded to both drill into the ceiling and fire its drones at once. An updated variant of the Bull Drill, called the Sergeant Drill, takes over the original in prominence.
Variants
| | |
| --- | --- |
| | Bull Drill: The original mining vehicle created by the Rebel Army. First appeared in Metal Slug 6 |
| | Sergeant Drill: A jet-black version of the Bull Drill designed for Allen O'Neil. Appears in Metal Slug Attack. |
| | Red Sergeant Drill: An upgrade of the Sergeant Drill, now painted red, and still piloted by Allen O'Neil. Can ram enemies by charging forward and shredding them into bits with its drill. Appears in Metal Slug Attack. |
| | Golden Sergeant Drill: Another upgrade of the Sergeant Drill, now painted gold and durable enough to carry red-hot lava. It can fire molten rocks that can incinerate enemies upon impact with the ground. It's drill turns bright red from the intense heat. |
Gallery
References