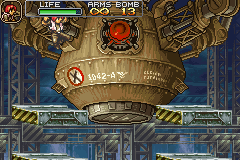 Cabracan (alternatively spelt Cabrakan in Metal Slug Defense and Metal Slug Attack) is the final boss in Metal Slug Advance.
Information
The Cabracan is a powerful weapon developed by Rebel Army capable of producing earthquakes to destroy targets.
Details
The Cabracan's only weak spot is the red core on the front. At first, it will raise a shield around the core and send two Cabracan Pods to attack the player. The second drone you destroy will provide you a HMG. After the drones are destroyed, the shield will deactivate, then the boss will fire a series of energy projectiles, followed by a large laser, making all platforms fall. The boss will move down and begin firing lasers that bounce off the wall, once it has flames all over. It will send more Cabracan Pods and gains a new attack where it fires lasers in a circle, stand directly underneath the boss and you should be safe.
Having Black Hound, Hyper Cannon, Hyper Vulcan, Thruster+, L.5 Armor and A.P. cards activated will provide short work of this boss.
Its flying drones have the same look as a Sensor Mine.
Variants
| | |
| --- | --- |
| | Cabracan: The original model. |
| | Cabrakan MK II: An upgraded version of the Cabrakan built by the Rebel Army. Unlike its predecessor, the MK II's pods are upgraded to shoot more lasers, and it attempts to track the nearest enemy. Appears in Metal Slug Attack. |
| | Cabrakan MK III: Another variant of the Cabrakan. It acts much like its MK II variant, except MK III's pods erratically wander around and automatically destruct after a set period of time or touch an enemy rather than firing on them. Appears in Metal Slug Attack. |
| | Frozen Cabrakan: An ice-inspired variant of the Cabrakan which Dolores calls into battle while helping Beatriz. It filled with a massive amount of cold air which it forms into a tornado to freeze everything caught in it. Appears in Metal Slug Attack. |
Trivia
Despite the fact that in original game, that Cabracan is a stationary weapon, Cabracan in MSD and MSA can move around like an air unit.
Cabracan's name is derived from Cabrakan, the Mayan god of mountains and earthquakes. This is an allusion to the device's ability to create earthquake.
Cabracan appears in Metal Slug Defense serving as both event boss and reward unit on the Christmas Event. It can be challenged only if all previous stages were clear. Its normal attacks are to send its Cabracan Pods (official name of drones) and shooting beams. Its special attack, the "Gigantic Laser", is a huge laser that advance and turn back after a certain distance.
It also appears in Metal Slug Attack as both the main boss and a Reward Unit on the Extra Ops "Boy Memories", with the same attacks of Defense and with a movement buff for Rebel faction units (Skill 4).
Gallery
Community content is available under
CC-BY-SA
unless otherwise noted.