---
---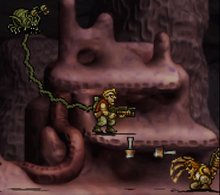 The Controller is a green Flying Parasite that controls one of four characters: Marco, Tarma, Eri, and Fio. Attacking the possessed host will destroy the Controller. When the Controller is destroyed, the character gets up but sits down exhausted, and a SV-001 Type-R drops from the ceiling. In the ending of Morden saving the player character(s), the possessed character is seen in a Mini-UFO.
The Controller's host is the character who was seen falling in the final mission's cutscene, which depends on the characters that Players One and Two were controlling at end of mission 4. The host becomes unselectable for the entire mission.
| Player 1 | Host | Unless Host is P2 |
| --- | --- | --- |
| Marco/Ralf | Fio | Tarma |
| Tarma/Clark | Eri | Marco |
| Fio | Marco | Tarma |
| Eri | Tarma | Marco |
The Controller's host's attacks include having the host alternatively fire green Heavy Machine Gun rounds while spinning around like a ball, a rocket with green flames, and a green Flame Shot. When close, the host uses their melee attack (hatchet/tonfa/knife). Sometimes, they'll throw a grenade or fire a small shot of their pistol.
---
---