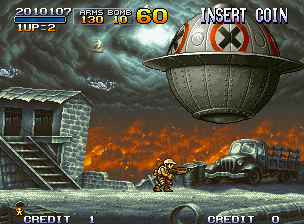 The Dai-Manji is the penultimate boss in Metal Slug 2/X.
Boss Synopsis
The Dai-Manji is much larger than the Mini-UFOs and boasts significantly more armor and firepower. From its bottom hatch, it can send Mini-UFOs or fire a deadly ray of electricity at its target. It can also launch energy bolts to carpet an area, much like the Hi-Do, when at critical health.
After sustaining enough damage, it will attach itself to the Martian Mothership, Rugname, which increases its lethality even further. The connected Dai-Manji now fires a large laser beam directly below and dispatches elite Mini-UFOs.
Once the Rugname is destroyed, the leftover Dai-Manji explodes dropping the captured Morden (cuffed up to a table in his underclothes).
In Other Games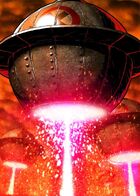 A Dai-Manji appears after the fight with the Hi-Do carrying a tied up Morden and picking up the captured player via tractor beam before leaving.
Three more Dai-Manjis show up attacking the player in space although with lower armor. The last one alive will attach itself to the Rugname like the previous game. Destroying it gains entry to the Rugname.
The Dai-Manji is the final boss. It attacks by firing a laser beam directly below or dispatching Mini-UFOs.
The Dai-Manji only appears in the games' credit sequence rescuing Morden and two of his soldiers from falling into the lava. It then drops them off to safe ground to fend for themselves before leaving.
Variants
| | |
| --- | --- |
| | Dai-Manji: The original version. In Metal Slug Attack, it can fall down and explode once it's HP is depleted dealing massive damage to enemy units. |
| | Dai-Manji (Secret): A black plated version of the Dai-Manji, boasting better armaments and armour. Appears in Metal Slug Attack. |
| | Golden Dai-Manji: A golden variant of the Dai-Manji. It flies lower but can charge up a powerful ball that vaporizes enemies it makes contact with. Appears in Metal Slug Attack. |
| | Dai-Manji (Amadeus): A Dai-Manji that has been hacked by the Valerian Bear Rosa. Rosa manifested an AI head of itself at Rugname's bottom antennae, and is able to deploy Mini UFOs bearing her head to attack enemies, alongside the Dai-Manji itself. Appears in Metal Slug Attack. |
Trivia
A Dai-Manji is about 25 times bigger than a Mini-UFO, 16 times bigger than a UFO, and 176 times smaller than the Rugname.
Its form resembles the Death Star from Star Wars.