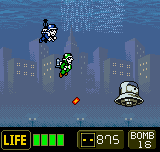 The Drop Pack is a vehicle found in Metal Slug: 2nd Mission.
Information
The player activates the Drop Pack after the destruction of the Slug Flyer. Unlike the Parachute Drop from Metal Slug: 1st Mission, the Drop Pack is its own separate mission.
Different from the jetpack from the arcade games, the Drop Pack manually ascends the player upwards by holding down the jump button. One should be wary of the meter found on the Status Screen below as it's prone to quickly overheating. It slowly cools down when not in use. Like the jetpack, the player can only aim at their face direction.
Both Gimlet and Red Eye wear safety goggles in this state; Tequila has no eye protection. In the inverse, Gimlet and Tequila have unique victory animations; Red Eye reuses her end clear animation.
Margaret is found at the end of these missions.
Missions Found