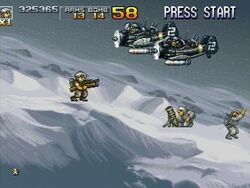 Eaca-B is an enemy in the Metal Slug series. It is the rebellion's main fighter bomber.
Information
The Eaca-B is an air-to-ground fighter used by the Rebel Army, making most of their air force along with the Flying Tara. Fast and versatile, they are weak against anti-aerial fire. They carry self-propelled-heat-seeking bombs which serves as their main firepower, but in the last mission of Metal Slug 3, they fires semi-homing missiles to the player, but in Metal Slug 2/X final mission while they battle mini UFOs they are shown using their machine guns.
Trivia
They're based on 2 WWII fighters: on the American Grumman TBM Avenger torpedo bomber and the Grumman F6F Hellcat. And has the turrets from a Boeing B-17 bomber.
In the second mission of Metal Slug 6, if you don't kill the gray Mars People, an Eaca-B will appear.
They have machine guns on the wings and a turret but never were shown used, except when dogfighting Martians in the background during the Martians' betrayal.
In Metal Slug Attack appears again in Extra Ops "Crazy Drive"