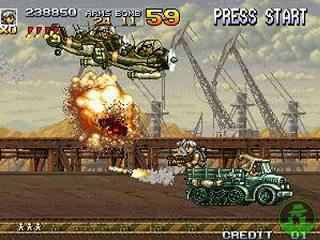 Flying Tara is an enemy in the Metal Slug series. It is a rebel bomber airplane .
Information
A secondary airplane used by the Rebel's air force, the Flying Tara is mostly a variant of the Eaca-B, with better armament and maneuverability. They only carry a single heavy bomb with them, after throwing it, they fly to the background, and then return with another bomb (Metal Slug 1 only). But in other games, they shoot the same missiles as the Eaca-B.
Upgrades and variants


Ptolemaic variant: It doesn't use a propeller, has more speed but less weapons and armor. Only appears for a short time in the mission 5 of Metal slug 5.
Trivia
They're based on 2 WWII fighters: on the American Grumman TBM Avenger torpedo bomber and the Grumman F6F Hellcat. And has the turrets from a Boeing B-17 bomber.
The Ptolematic variant was based on the Bell P-59 Airacomet.
In Metal Slug Defense, the Ptolematic Variant is called the 'Flying Tara VER.P.M.'

Its bombs are hidden in the body, and are more sleeker than the usual variant.