The Gaia Elephant is a Ptolemaic artillery from Metal Slug 5, serving as a mid-boss in the game's Final Mission.
Information
The Gaia Elephant is a robotic elephant head controlled by a Masked Soldier. Its attacks consist on firing a laser from its proboscis toward the player while also launching several maggots from the side launchers that serve as its "ears", trying to kill the player with them. Eliminating a maggot will sometimes award a Two Machine Guns crate. After it has been damaged enough, the head's proboscis will try to smash the player by swinging around.
In Metal Slug 5, the player fights two Gaia Elephants attached to a tower. Once both contraptions are destroyed, a platform lowers from below which takes the player to the final boss arena.
Other Appearances
The Gaia Elephant reappears in Metal Slug Attack as a boss for the "2021 New War!!!" event. In order to compensate its sprites, the Gaia Elephant is placed in a Stone Turtle body. Alongside the Gaia Elephant's normal attacks, the body's belly can open up to reveal a bright orange pillar. The pillar is then repeatedly slammed onto the floor which protrudes multiple rocky spikes in front of the Gaia Elephant.
Gallery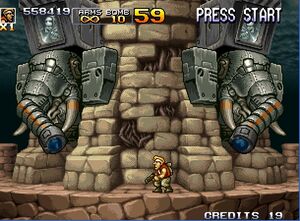 Trivia
Prior to its release in Metal Slug Attack, fans often referred to it as the Mammoth Tower.
In Greek mythology, Gaia is a primordial deity and the personification of planet Earth.