---
---
"Go Ahead!" is the fifth mission of Metal Slug 4.
Mission Synopsis
After clearing out the Hal Haunted Holtouse, the heroes enter a cargo crate carried by the Regular Army Helicopter. The crate is picked up and put into storage by a cargo ship under control by the Amadeus Syndicate. Various Rebels and Pirates are scaring off the sailors and kicking them off the boat. Once reaching the ship's bow, the heavily tattered, yet still functioning Brave Guerrier fires rockets and dismantles the ship. With the heroes stranded, the Sea Satan submerges from the sea and starts to attack.
Locations
Storage Room: Large rooms full of crates. The Forklift and Metal Claw are found a distance after the crank. These two Slugs stop before the exit.
Starboard: Continuing right leads to the heroes out to the ship's edge. They have to use the beams to climb upwards to the deck.
Hull: Pulling the crank and entering the open hatch drops the heroes to the ship's bottom. An elevator section, they slowly rise up to the deck occasionally stopping to deal with Rebels from both sides.
Deck: Both routes meet up to the ship's front. Midway is a section against aerial vehicles stationed above highly stacked crates. Careful to not fall between them.
Prisoner Locations
Storage Room
There are 8 POWs in this section. The player can only rescue two if the alternate route is taken.
Starboard
There are 4 POWs in this section.
Hull
There is 1 POW in this section.
Deck
There are four POWs in this section.
Trivia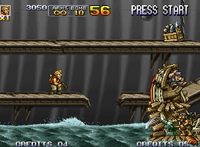 Alongside the Sailors being unused prisoners, they also have sprites of holding their breath and jumping off the ship. By entering the Starboard section and quickly gunning to the right while using the "D Button destroys all" DIP switch, the player can see them jump out. They don't dip in the waters, however, as they land on a beam and simply float there.