The Hozmi (also spelt as Hodumi in Metal Slug Attack) is the fifth boss from Metal Slug 2/X, as well as the second boss in Metal Slug Mobile 3.
Series Information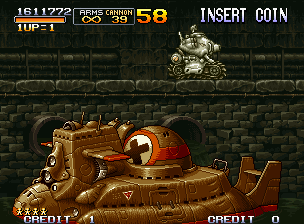 War is always a dirty business, but who would have ever thought you would find yourself in a naval battle while in a sewer?
The Hozmi is a nuclear-powered submarine, designed for naval battles. It is equipped with a powerful electric cannons with long range. It is unknown since when they were able to create such weapons, but since in this game they have relations with the Martians, it is possible that the Hozmi could be constructed with alien technology. In fact Martians can be found in small booths overlooking the construction of other Hozmi-class vessels. There's also a super Hozmi. A variant which has flame throwers mounted on the bow and 2 Di-Cokka turrets are mounted behind the electric sphere.
Regardless of its origins, it's still no match for good old fashioned Peregrine Falcon violence. After the ship is destroyed, the crew will escape from submarine by jumping into the sewage water, adding insult to injury.
Details
The fight against Hozmi is similar to the fight with Tani Oh. It will fire a barrage of electric spheres at you in some patterns, like firing a series of electric sphere at the same time or firing electric spheres that follow the player, or even an electric sphere that stops in mid-air and then go straight at the player. It will also fire a deadly electric beam from the cannon.
Variants
| | |
| --- | --- |
| | Hozmi: The original variant. |
| | Hozmi 2.0: This rare variant of the Hozmi is found only in Metal Slug Universal. |
| | Hodumi+: An aerial version of the Hozmi painted blue. Shares the same attacks as the original, appearing in Metal Slug Attack. |
| | Hodumi++: A black-grey version of the Hodumi++ that still possesses the series' signature electrocannon, but this time can also send numerous stalactites falling down on enemies. Appears in Metal Slug Attack. |
Other Appearances
Trivia
Various incomplete Hozmis can be seen in the background of the final mission, as soon as the building is breached. Several others that are nearly completed can be found in the foreground, and the Hozmi MkII is the boss in Metal Slug Universal.
The Hozmi's design is based off the player's submarines from "In The Hunt", which was developed when Nazca was still a part of Irem. The color palette for Hozmi and Hozmi MkII is similar to the Player 1 and Player 2 submarines in the game.
The Hodumi+ is known as "Hozumikai" in the game's files. Kai means Plus or Improved in Japanese.

For some reason, MSA's playable Hozumi name was using Japanese romanization instead of English romanization (Japanese romanization mostly using "Du" for "Zu" sound)