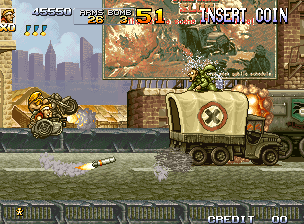 The M34 3-Ton Truck (also known as 3-Ton Utility Truck) is a Rebel Army support vehicle in the Metal Slug series.
Information
The M34 3-Ton Truck is a cheaper alternative to the Landseek used to transport troops. Unlike the Rebel Van, this provides an easier exit as the troops don't need to crawl out one by one.
When not driving, the truck will either appear already parked or back itself in reverse. It will continue to spew enemy infantry until it is destroyed. Other soldiers can attack from its roof. Destroying them may provide weapons or Slugs.
Variants
| | |
| --- | --- |
| | A.P.C.: Heavily armored and faster than the Rebel version and can also turn around to block the player. |
| | Regular Army Truck: Same purpose as the Rebel version except more armored. Soldiers can attack from inside the back while its moving. |
Trivia
The M34 3-Ton Truck is based on the GMC CCKW.