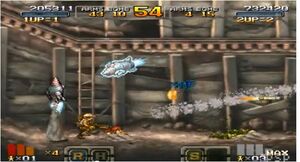 The Metal Mole is a special kind of drone present in Metal Slug 7.
Information
This remotely controlled missile drone has a drill attached on its front to dig underground, creating a path of mud and then going to the surface, where he tracks his target and fly towards it to explode.
If a character steps in the mud created by the Metal Mole, it will get "moled", as he/she will sink into the ground and unable to move. To get out of the mud, the player must shake the directional or mash the buttons rapidly.
Trivia