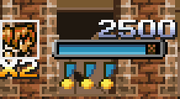 The Metallish System[1] (or Metal Rush System[2]) is a combo system exclusive to Metal Slug 4.
Rundown
When a player collects a Blue or White Emblem, a depleting blue gauge appears under their score counter. The player can earn medals in this short time limit by racking up points in any way possible. White Emblems have a timer of fifteen seconds while Blue Emblems have ten seconds.
The color medals represent the total amount of points collected during the combo time. The player can increase the number of medals by performing better on the next Emblem. Note that the number of medals awarded in conjunction with points collected is inconsistent.
This time limit can end prematurely anytime the player boards a Slug as the Slug Gauge overrides the Metallish Gauge. Likewise, collecting an Emblem while riding a Slug negates its effects.
The medals change color for every four collected. Four gray medals (also known as Metalish [sic] in game) is the maximum amount. The Recaptured Prisoners screen gives out bonus points depending on the number of color medals a player has collected. Like POWs, medals are lost upon death.
Number of Medals
Approx. Point Threshold
Message
Medal Color
Bonus Points
0-3 Blue Medals
≥ 500 pts.
Nothing
0 pts.
4 Blue Medals
≥ 3,000 pts.
Bravo
Blue Medal
10,000 pts.
0-3 Green Medals
4 Green Medals
≥ 5,000 pts.
Great
Green Medal
50,000 pts.
0-3 Red Medals
4 Red Medals
≥ 8,000 pts.
Terrific
Red Medal
100,000 pts.
0-3 Gray Medals
4 Gray Medals
≥ 10,000 pts.
Metalish
Gray Metal
500,000 pts.
A secondary effect of collecting an Emblem is that it gives brief invulnerability.
Trivia
The arcade marquee, Japanese magazines and Xbox/PlayStation 2 manuals also mention a Red and Green Emblem that do not appear in game[2] with sprites only shown for the former two. According to the magazine Monthly Arcadia, the Red and Green Emblems give eight seconds and thirty seconds of combo time, respectively[3].
Gallery
References