The Orca is a NPC from Metal Slug 2/X.
Information
Orcas (Orcinus Orca) are a species of dolphin belonging to the oceanic dolphin family. They are found on all oceans, especially in the Artic regions. They are carnivorous creatures, preying even on large animals like sharks, being known as voracious predators, which earned them the nickname of Killer Whale.
One such Orca was spotted near the Rebel Army base during the Second Modern War. The Regular Army soldiers involved in the conflict reported that this Orca ate Allen O'Neil whole as he fell defeated into the sea. Amazingly, Allen was found still alive during the very next war.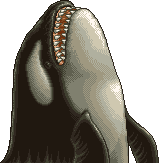 External Links
Community content is available under
CC-BY-SA
unless otherwise noted.