The Sea Satan (also known as "Sea Devil") is the fifth boss in Metal Slug 4.
Information
This huge submarine is used by the Amadeus Syndicate. It can destroy ships with ease. 
It can also kill any personnel aboard using its Gatling Gun and dissipate its target using its missiles. It can either stealthily destroy a submarine and ship or aggressively engage them head on. 
Details
There will be rebels getting out of the ship everytime during the fight, trying to prevent the player(s) from damaging and destroying the ship, while the soldiers who control the turret mans a rocket launcher which also hides a minigun at you. After some time, it will dive under the sea and begin launching rockets. It also gets support from the Brave Guerrier during the fight.
Trivia
Like all Metal Slug 4 bosses, it was made using old sprites from previous Metal Slug games.
The Sea Satan's Concept art depicts that the Submarine is a Giant Submarine but in the game, the upper part of the Sea Satan can be seen this is due to size related issues.
The Sea Satan finally appears in Metal Slug Attack as a playable unit in the Extra Ops "Eternal Way" as Sea Satan+ (Sea Satan Kai), Instead of having full body like concept art, it just had some sprite modifiled to "full body" and act likes "VTOL Airship" Like Hozumi+.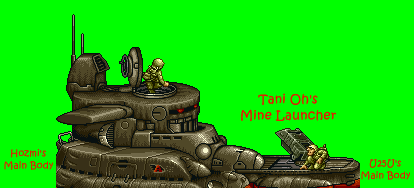 Gallery
Community content is available under
CC-BY-SA
unless otherwise noted.