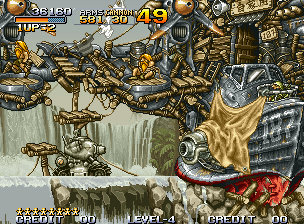 The T-770 Tetsuyuki is the first boss from Metal Slug: Super Vehicle-001.
Information
The Tetsuyuki is a flying warship created by the rebels for combat, equipped with heavy armor and weapons, earning it nicknames such as Impregnable Castle, Moth of Hell, and Sailor Titan. One of these crash-landed onto the Villeneuve Mt. System, where it was fortified by the rebels to serve as a base of operations. Some of its weapons are still operational.
Details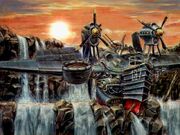 The Tetsuyuki, despite being a gunship, is stuck on the ground, now serving as a makeshift base to keep outsiders away. It has a laser cannon on one of its sides, which it uses to charge a straightforward laser beam that must be ducked, or to launch a ground wave that can be jumped. For the majority of time, it will fire bursts of arching energy shots aimed at your character, which can be easily dodged. You should just hammer away at it with your Metal Slug (if you still have it.),or with a Heavy Machine Gun. Also, look out for the yellow trooper who runs out the top of the plane. If you kill him, you should get either grenades or Heavy Machine Gun ammo. It can be taken down in about 25 grenades.
Gallery
Trivia
The Tetsuyuki was based on 3 combinations of bombers, the Boeing B17G Flying Fortress, the Dornier DO-X and the Avro Landcaster MK III bomber.
This vehicle, the Double-Decker Bus and the M-3 Rocket Launch Support Van are apparently the only real-sized vehicles in Metal Slug.
The Tetsuyuki in Metal Slug Mobile 4 is covered in mosses and plants much like that it was an abandoned yet operational plane.
It also appears in Metal Slug Defense and Metal Slug Attack as an undeployable boss unit that can't obtained without cheats. If the player gets access to this unit, it will be placed at the base instantly when deployed. However, the only sprite that will appear is its own laser cannon.
Like Tani-Oh, Tetsuyuki's operator is revealed in the Metal Slug Pachinko games. This is also applied to Hairbuster Ribert and Shoe and Karn.