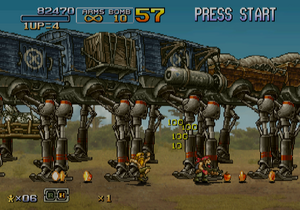 The Walking Locomotive is a Rebel vehicle from Metal Slug 6. It is a moving train with legs that appears in the game's first mission.
Information
The Walking Locomotive is a vehicle developed by the Rebel Army to send supplies to the soldiers on the front line. After the destruction of the Supply Train in Metal Slug 2/X, the Rebel Army needed a new means of transporting supplies. The result was this tall and very well armored walking train.
Details
A modified train, the Walking Locomotive is armed with several heavy weapons, backed by Rebel Infantry members providing supporting fire. A few sections have large turrets that fire homing rockets. Destroying some sections of the vehicle will drop supplies such as food, ammunition, or even POWs; one section in particular provides an SV-001. It is very long, fast, and heavily armored and may require two players to destroy all of its section. A Heavy Machine Gun, Grenades, and the SV-001's weapons can tear it up easily. Destroying the entire Walking Locomotive causes each section to drop tons of coins.
In Other Games
Only the caboose with the turret appears as a playable unit. As such, they are called in the game as Cabs. They are smaller and each contain a weapon in its undercarriage.
The Iron Cab returns as an SSR Slug with the same appearance as in Metal Slug Attack. Instead of holding a weapon inside, it deploys Rebel units by dropping from its underbelly.
Variants
Iron Cab: The original variant. Launches missiles and also carries a laser cannon in its undercarriage.
Frozen Cab: A variant of the Iron Cab developed for Beatriz, the Frozen Cab has an ice cannon and is much more durable than the original variant.
Blaze Cab: A variant of the Iron Cab developed for the Blaze Brigade. It is equipped with a long-range flamethrower that is particularly effective against Invaders.

Fight Cab

: A heavily modified variant of the Iron Cab. Uses large wheels instead of legs to run over enemies while also slamming a large Kraken-like worm onto the ground. It is piloted by Sylfie. Appears in Metal Slug Attack.
Trivia
Even if the front is destroyed, the train continues to move. Presumably the remainder continues on auto-pilot.
The Iron Cab and its variants in Metal Slug Attack uses the Tetsuyuki's cannon sprite as part of the Cab's special.